Ready to unlock your potential?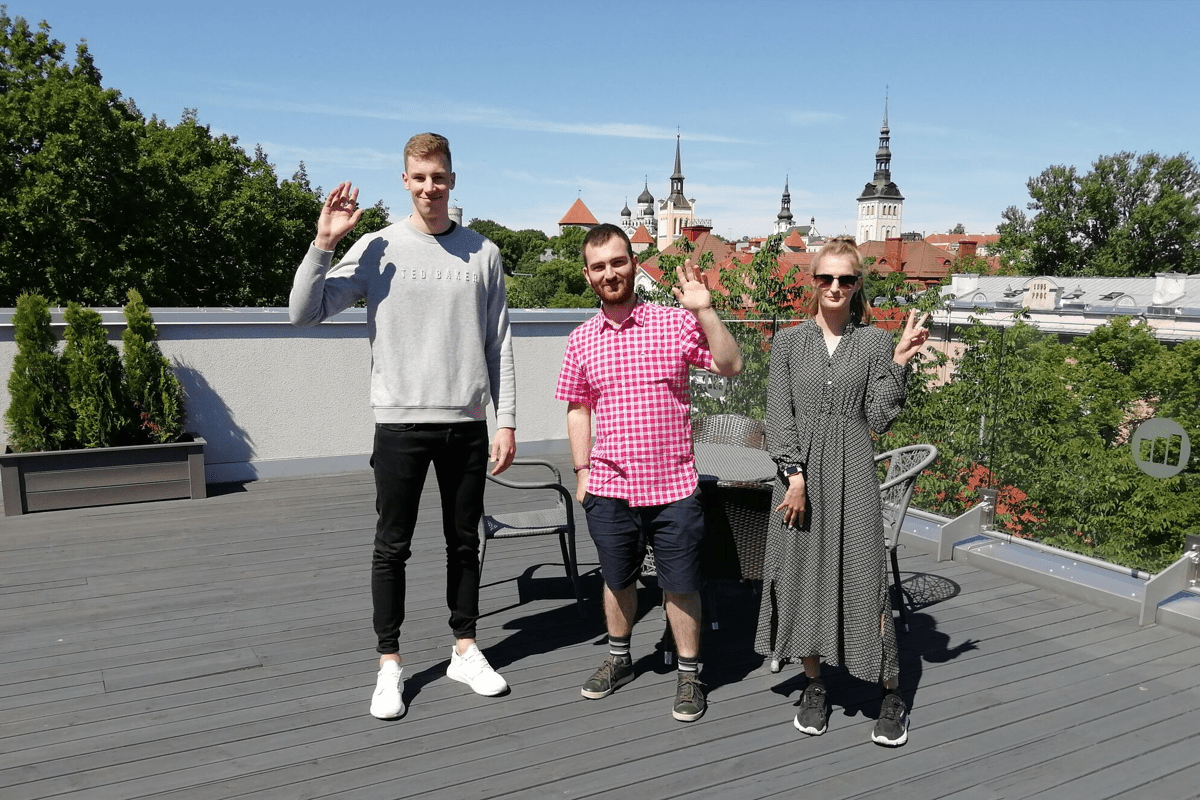 What's it like to be an Adcasher?
The interns will be taking on smaller projects or parts of a larger project and collaborating with other specialists in the team to get input on our strategy and best practices.
During the internship, you will get support from your own mentor to help you learn and develop professionally. Your manager will introduce you to the Adcash team, our work culture and onboard you to our office activities.
We offer paid internships with a competitive salary package including Adcashers' perks.
Find out what internships at Adcash are like
Siim Mõtshärg
Junior Full Stack Developer
From day one, I wasn't just an intern; I was a full-fledged team member who worked side-by-side with the rest of the IT team. This theme carried on for the rest of my internship - even as a very junior developer, my contribution, ideas, and input were always appreciated and taken into account. My internship experience at Adcash was fantastic, and not only was the work experience great, the people and the atmosphere of the company is just 10/10. It is truly remarkable how much value a 3-month internship at the right company can provide.
Sevil Jafarova
Business Analyst
My journey at Adcash started as a Business Analysis Intern. After that, I was promoted to the Junior Business Analyst role. Something I really appreciate is the way everyone tries to make new members feel welcome. Adcash always encourages us to ask for anything we need and values our effort. We learn from the best here since all the level of the company work together. Opportunities for growth and self-improvement abound. Being surrounded by young energetic people with positive vibes and affiliated with such a stimulating, diverse and innovative company is priceless. Adcash gives you more than career opportunities.
Muharrem Demir
Publisher Manager
I would not imagine any better internship experience. You don't need to worry about your challenges, because everyone is willing to help if needed. Your colleagues become your friends in this organization. Also, a friendly environment helps to engage you and gives you the energy to seek your objectives. Being an intern at Adcash is a real deal because you are a trusted team member with responsibilities. I thought that every good thing has an end, yet I was offered to become a full-time Adcasher after the internship, which shows how much the company values its interns.
Arthur Gely
Performance Advertising Intern
My Performance Advertising internship at Adcash was a wonderful experience that I will never forget. I met some amazing people who have become friends. Their support and advice helped me to flourish and improve in my work. I also got to prospect clients for a month and realized how complex a sales position is. The c-level committee manages Adcash in a great way, and they complement each other very well! These past six months have allowed me to be more mature and to find my voice in the world of online advertising.
Tanguy Billon
Performance Advertising Intern
Working at Adcash is my very first experience abroad as an intern. Thanks to this international team, I feel surrounded by greatness and cultural diversity. To me, the multicultural aspect of our job is one of the strengths of Adcash. We deal with people's expectations from all around the world. Moreover, the constant search for innovative solutions is a real game-changer. In my mind, working in Adcash gives you one of the best opportunities for self-improvement but also teamwork.
About Adcash
Adcash is a global online advertising platform. With advanced in-house optimization technology and over 14 years' ad tech experience, we provide businesses with digital advertising tools that deliver real results. Our platform enables advertisers to reach global audiences and allows publishers to monetize web traffic with minimal effort.
Already working at Adcash?
Let's recruit together and find your next colleague.